If you're interested in getting a website up and running and want to do it yourself, then WordPress is an excellent bet.
WordPress is the most popular content management system and powers 35.2% of all websites. WordPress also gets increasingly easier to self-navigate as the days and years progress, and there are several excellent WordPress page builder software programs that will help you through the process of building your website.
With all of the different website builders on the market, though, how is a novice to know which one is the best? Well, it depends on what you're looking for, how much you already know about website building and your budget.
To help you make an informed decision, here is an in-depth review of two of the most popular WordPress page builders on the market, Divi vs. Elementor.
What is Divi?
You may already know Divi as one of the most popular WordPress themes, but it's more than that. Divi is also a website building platform that makes building a WordPress website significantly easier. Divi also includes several visual features that help you make your website more visually appealing.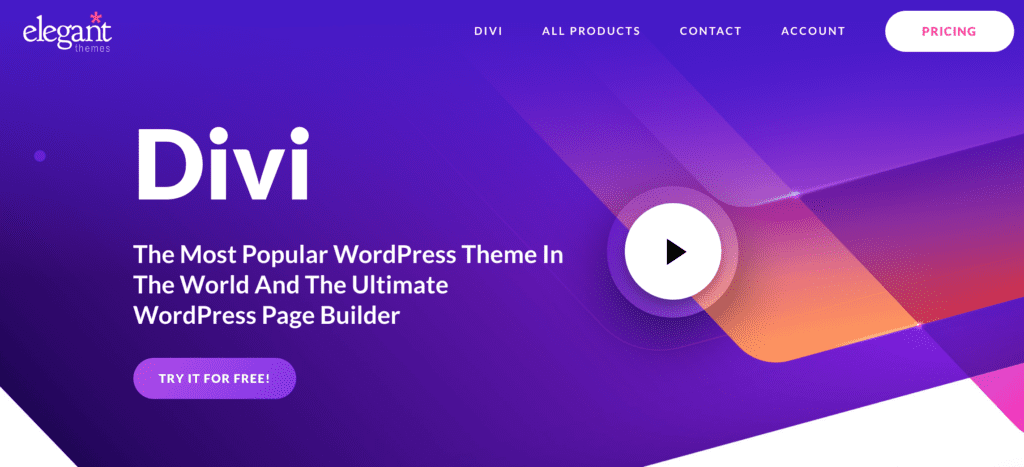 Let's take a closer look at some of the most impressive features of the Divi WordPress builder. 
Features of DIVI
Here is what you can expect feature-wise when you select Divi as your WordPress page builder.
Drag & drop building. Divi makes it easy to add, delete, and move elements around as you're building your website. The best part is you don't have to know how to code. All of the design is done on the front end of your site, not the back-end.
Real-time visual editing. You can design your page and see how it looks as you go. Divi provides many intuitive visual features that help you make your page look how you want it to without having to know anything technical about web design.
Custom CSS controls. If you do have custom CSS, you can combine it with Divi's visual editing controls. If you don't know what this means, no worries. You can stick to a theme or the drag and drop builder.
Responsive editing. You don't have to worry about whether or not your website will be mobile responsive. It will be. Plus, you can edit how your website will look on a mobile device with Divi's various responsive editing tools.
Robust design options. Many WordPress builders have only a few design options. Divi allows you full design control over your website.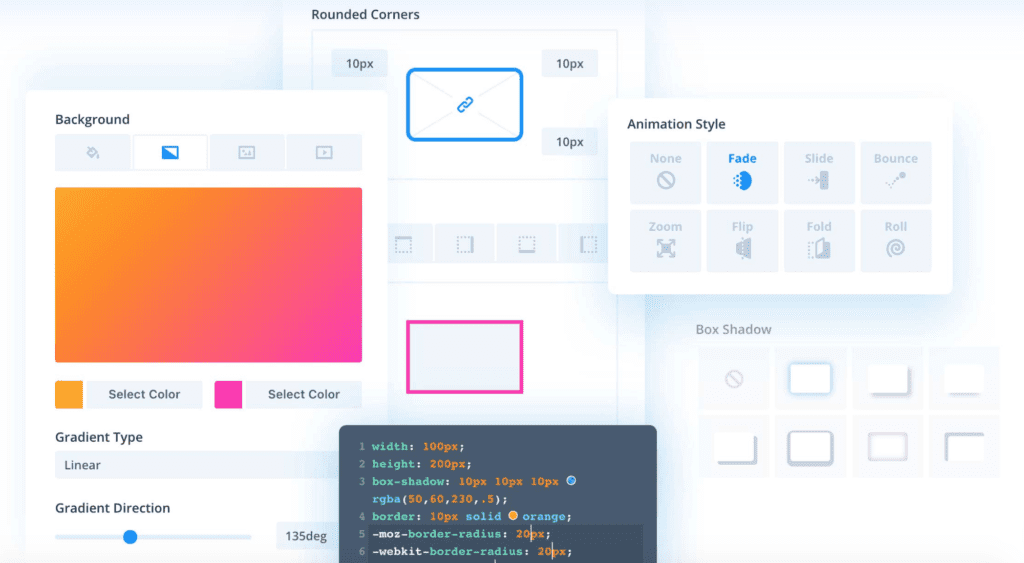 Inline text editing. All you have to do to edit your copy is click on the place where you want your text to appear and start typing.
Save multiple designs. If you're not sure exactly how you want your website to look before you publish it, you can create multiple custom designs, save them, and decide later. You can also save your designs to use as templates for future pages. This helps your website stay consistent and speed up the website creation process.
Global elements and styles. Divi allows you to manage your design with website-wide design settings, allowing you to build a whole website, not just a page.
Easy revisions. You can quickly undo, redo, and make revisions as you design.
Pros of Divi
Why would you want to choose Divi vs. Elementor? Here are the top advantages of Divi to consider as you make your decision.
More templates. Divi has over 800 predesigned templates and they are free to use. If you don't want to design your own website, simply pick one of the templates that best matches your style.
Full website packs. Not only does Divi have a wide range of pre-designed templates, but they also offer entire website packs, based on various industries and types of websites (e.g., business, e-commerce, health, beauty, services, etc.).  This makes it easy to quickly design a website that matches your needs.
In-line text editing. The in-line text editing feature is an excellent feature. All you have to do is point and click and you can edit any block of text.
Lots of content modules. Divi has over 30 customizable content modules. You can insert these modules (e.g., CTA buttons, email opt-in forms, maps, testimonials, video sliders, countdown timers, etc.) in your row and column layouts.
Creative freedom. You really have a lot of different options when it comes to designing your website. If you can learn how to use all of the various features, you'll be able to build a nice website without having to know anything about coding.
Cons of Divi
Before you decide to hop on the Divi bandwagon, it's essential to consider potential drawbacks. Here are the cons of the Divi WordPress website builder to help you make a more informed decision.
No pop-up builder. Unfortunately, Divi doesn't include a pop-up builder. Pop-ups are a great way to draw attention to announcements, promotions, and a solid way to capture email subscribers. 
Too many options. While Divi has so many builder options that you can do nearly anything, some reviewers believe that all of the options are too many options. This can distract from the simplicity of use.
Learning curve. Since there are so many features with Divi, it can take some extra time to learn how to effectively use them all.
The Divi theme is basic. It's critical to remember that the Divi theme and the Divi WordPress builder are two different things. You can use the Divi WordPress builder with any WordPress theme, including the Divi theme. However, if you opt for the Divi theme, it's nice to know that some reviewers think the Divi theme is a bit basic. You may want to branch out and find a more suitable theme.
Glitchy with longer pages. Some reviewers also say that Divi can get glitchy when trying to build longer pages. This shouldn't be too much of a problem if you're only looking for a basic website.
What is Elementor?
Elementor is an all-in-one WordPress website builder solution where you can control every piece of your website design from one platform.
Like Divi, Elementor also provides a flexible and simple visual editor that makes it easy to create a gorgeous website, even if you have no design experience.
Elementor also touts their ability to help you build a website that loads faster and that you can build quickly.
Features of Elementor
You already know what Divi can do. Here is what you can expect feature-wise when you sign up with Elementor vs. Divi.
Drag and drop builder. Elementor also includes a drag and drop website builder, so you can create your website without knowing how to code. It also provides live editing so you can see how your site looks as you go. 
All design elements together. With Elementor, you don't have to switch between various screens to design and to make changes and updates. All your content, including your header, footer, and website content, are editable from the same page.
Save and reuse elements and widgets. You can save design elements and widgets in your account and reuse them on other pages. This helps you save time and keep your pages consistent across your website.
300+ templates. Elementor has a pre-designed template for every possible website need and industry. If you don't trust your drag and drop design skills, then simply pick one of the pre-designed templates. Of course, you can customize the theme with the drag and drop feature, but there is no need to start from scratch.
Responsive mobile editor. It's no longer an option to have a website that isn't mobile responsive. Elementor makes it a point to help you customize the way your website looks on a desktop and a mobile device, so you are catering to all your website visitors, not just those visiting from a desktop computer.
Pop-up builder. The use of pop-ups is a strategic way to draw attention to a promotion, an announcement, or your email list. Elementor's pro plan helps you make pixel-perfect popups, including advanced targeting options.
Over 90 widgets. You can choose from over 90 widgets that will help you quickly create the design elements you need to incorporate into your website. These widgets help you add things like buttons, forms, headlines, and more to your web pages.
Pros of Elementor
Here is a quick overview of the pros of the Elementor. If these advantages are important to you, Elementor may be the perfect fit for you.
Rich in features. Elementor is one of the best WordPress builders on the market and has tons of different features to help you create a quality website.
Maximum layout control. Elementor's interface is extremely intuitive, and the design features are easy to use. You don't have to train yourself on how to use Elementor. You just login, and start working.
Easy to use. For the most part, Elementor's drag and drop interface is easy to use. You can choose from different premade blocks, templates, and widgets.
Finder search tool. In the event you can't find something easily with Elementor, you can turn your attention to the search window, type in the feature or page you're looking for, and Elementor will direct you to it.
Always growing. Elementor's team is always working to stay ahead of the curve by pushing out new features often.
WooCommerce builder. Elementor has a nice WooCommerce Builder in their pro package. It's easy to design your eCommerce website without having to know how to code. Widgets you can use on your product page include an add to cart button, product price, product title, product description, product image, upsells, product rating, related products, product stock, and more.
Integrations. Elementor provides various marketing integrations that most website owners use on their sites. Integrations include AWeber, Mailchimp, Drip, ActiveCampaign, ConvertKit, HubSpot, Zapier, GetResponse, MailerLite, and MailPoet. WordPress plugins include WooCommerce, Yoast, ACF, Toolset, and PODS. Social integrations include Slack, Discord, Facebook SDK, YouTube, Vimeo, Dailymotion, SoundCloud, and Google Maps. Other integrations include Adobe Fonts, Google Fonts, Font Awesome 5, Font Awesome Pro, Custom Icon Libraries, and reCAPTCHA. There are also many 3rd party add-ons and you can build your own integrations.
Cons of Elementor
As with any website builder, there are advantages and disadvantages. Here are the cons of Elementor to consider when making your choice between Divi vs. Elementor.
Less templates than Divi. Elementor only has 300+ templates as opposed to Divi's 800+. While there are fewer templates, however, they are still well-designed and will help you build a beautiful website. Some people may actually consider this an advantage, because there are fewer templates to sort through, and it doesn't take up as much of your time to choose a template.
Outdated UI. Some reviewers say the Elementor user interface is outdated, making some features more difficult to find and use. It will be interesting to see if and how Elementor innovates its user interface in the future.
Issues with editing mode. Sometimes the website will look different when in editing mode. This can be frustrating for some users.
Margin and padding adjustability issue. When using the drag and drop builder, you can't adjust the margin and padding, according to some reviewers.
Customer support. It can be difficult to quickly get in touch with a customer support team member and to quickly get custom solutions to your issues.
No white label. Elementor doesn't come with a white label option.
Problems with third-party add-ons. While Elementor allows for a lot of third-party add-ons, these add-ons often cause issues.
Divi vs. Elementor: Which Will You Choose?
Regardless of which website builder you select, Divi or Elementor, you'll need a web hosting company to park your WordPress website.
HostFaddy provides a secure and affordable managed WordPress hosting plans that start at only R99 a month. Advantages include 2.5x the speed, advanced security, free migrations, a free domain, a free SSL certificate, and more